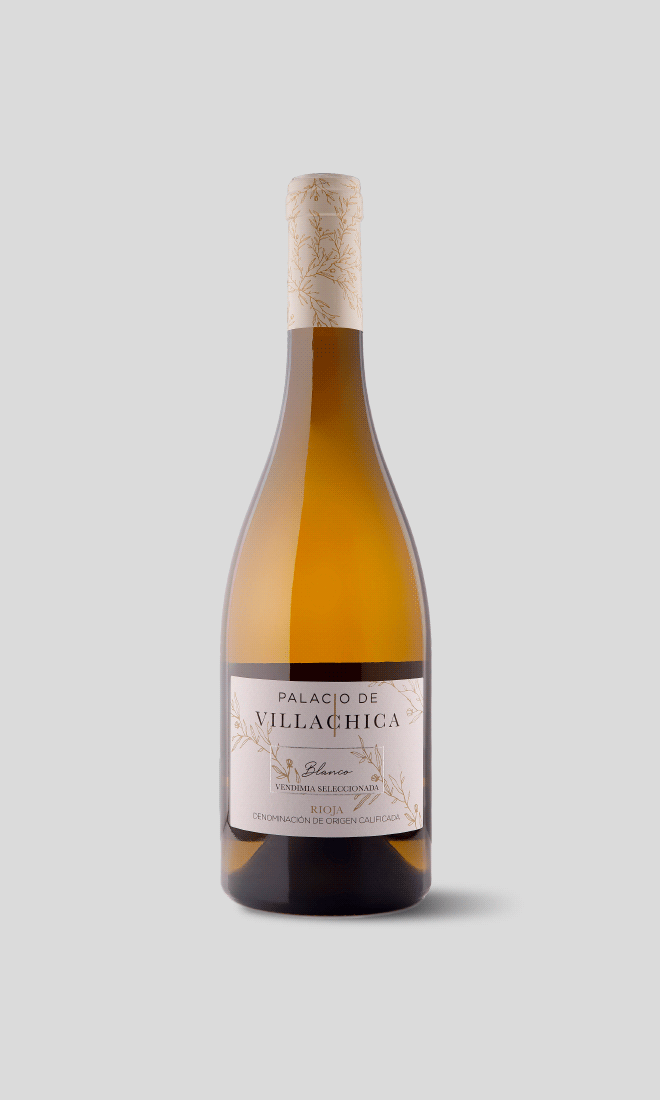 Palacio de Villachica
RIOJA BLANCO VENDIMIA SELECCIONADA
Wine Type: Barrel-fermented white wine
Production Area: La Rioja
DO Harvest Rating: Excellent
Grape Variety: 95% Viura and 5% Malvasía
Type of bottle: Borgoña
Format Availability: 75 cl
Alcohol: 13.10 %
The grapes from our viña Olagosa and Salmuera estates, located in the municipality of San Asensio in La Rioja Alta, arrive at the winery and are gently pressed. After a cold maceration for 24 hours, the clean must ferments in new French oak barrels. Once the alcoholic fermentation is finished, it remains in contact with its lees, in the barrels themselves, for three months.
The vegetative state of the vineyard has been very good in terms of health throughout La Rioja.

Due to the thermal oscillations and small rainfall during the month of May and June, the amount of grapes was reduced, obtaining small and loose bunches, less compact, which considerably increased the quality.


The evolution of the grapes was delayed compared to last year but the low yields caused an earlier ripening, matching the harvest dates.
Very attractive and bright straw yellow color, nose with good fruity expression, notes of pineapple and apple with nuances of its fermentation in wood such as coconut and vanilla. In the mouth it is silky, broad and fruity. The wood is well wrapped, a creamy and round wine that maintains its balance with fruit and acidity.