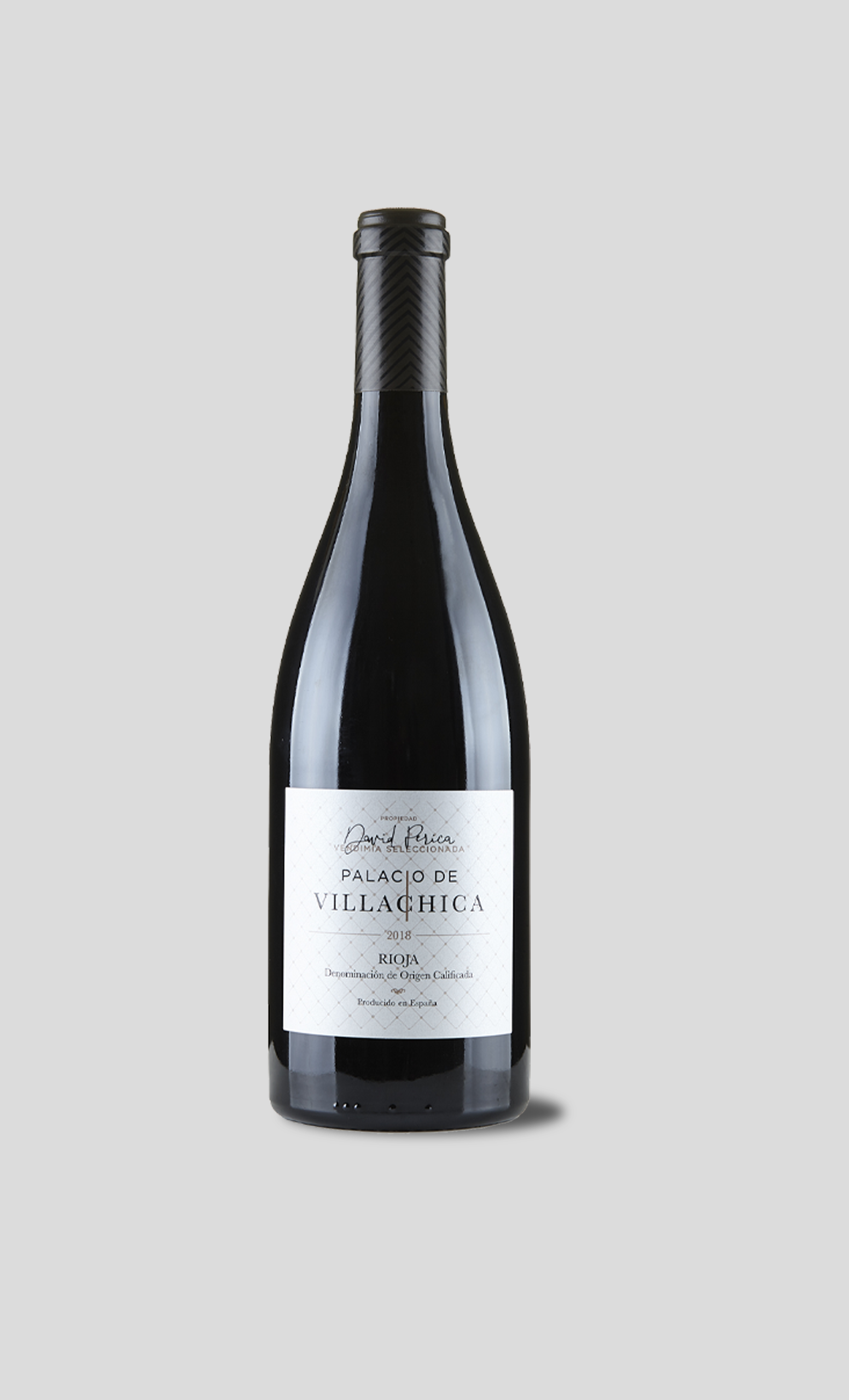 Palacio de Villachica
DAVID PERICA VENDIMIA SELECCIONADA

D.O.C Rioja
Type of wine: Tinto
Zona de Producción: La Rioja
DO Harvest Rating: Good
Grape Variety: 100% Tempranillo
Type of bottle: Borgoña
Formats available: 75 cl
Alcohol: 13.85 %
The harvest takes place in boxes and always at the optimal time that guarantees a perfect alcoholic and phenolic maturation. On these grapes two selections are made before entering the winery, a first selection in the field, where we only harvest the perfect bunches and then a selection of grain in the winery. Cold prefermentative maceration for 24 hours. Alcoholic and malolactic fermentation in French oak wood vats. Aging in French oak barrels for 12-14 months and then step to bottle, where it will remain a minimum of 10 months in our drafts.
The harvest begins at the end of September and takes place over three weeks. After a vegetative cycle marked by the hard frost of April and the drought, the campaign offered very satisfactory results in quality. The excellent health of the vineyard throughout the vegetative cycle, with total absence of pests or diseases of importance, has been one of the most outstanding characteristics of a harvest whose harvest began in August, becoming the earliest in the history of Rioja. The good weather that accompanied the end of the cycle and the improvement of productive expectations greatly diminished both by the drought and by the effects of the strong frost resulted in a high quality harvest.
Medium intensity garnet color. On the nose, medium intensity plus, aromas of black fruit, plums and red fruits, raspberries, typical of the Tempranillo variety, of the aging in wood we notice vanilla, coffee and tobacco also present in its passage through the mouth. Sweet entrance, medium body plus, a medium high acidity, a soft but present tannin that gives it length and persistence. Medium intensity and long end, we continue to notice the fruit and the aging in the mouth. Balance and long life.